This page of our site contains affiliate links, if you purchase a product or subscription from one of these links we may make a commission, at no cost to you. For more info read our terms.
Modern and/or contemporary homes are striking, sleek, creative and artistic.
They are often one of the more polarizing styles of real estate that exist. Homes built with a contemporary house plan tend to have raving fans. Others avoid them, and prefer more "traditional" styles.
But one thing is for sure: the contemporary and modern house styles have a strong following, generally starting around the 1930s and gaining popularity in the 1950s with the mid-century modern movement.
Contemporary house plans do not have a rigid "certain look". Contemporary homes have a wide range of influences and architects.
No single style has really become the norm for contemporary homes, and it will often vary on your area, builder and architect.
One thing can be said about this style: it will be noticed when someone drives by, compared to more traditional homes.
Buy Contemporary House Plans Online
A great contemporary home starts with well thought out house plans.
Truoba specializes in modern and contemporary house plans for your primary residence, guest house or even a small home for investment or vacation home.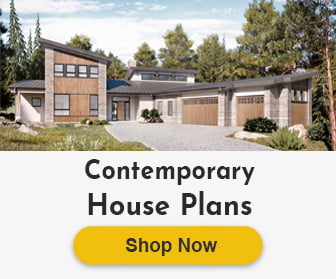 Once you find the floor plan you like, use my code, "realwillrodgers" for 10% off at checkout.
Additionally, Truoba also does fully custom design remotely and stay involved throughout the process. If you are looking for more traditional floor plans you can check out guide on floor plans.
Features of Contemporary & Modern Homes
The features of contemporary and modern architecture are widespread. And they also change with time and as new technology and materials emerge.
For example, 3d printed homes began to allow for new looks to homes including easily creating circular exterior walls.
However, there are some unique features that can be spotted in contemporary homes over the years.
These include:
• Unique and striking looks. Contemporary architecture is more expressive and therefore more eye catching.
• Infusion with nature. Just like the late Starchitect Frank Lloyd Wright, many designers want their homes to have ready access to outdoors and lots of glass to bring in natural light and scenery.
• Asymmetrical lines. Traditional homes keep the roofline and other angles the same. Contemporary homes have more variability with these lines.
• Open flow & floor plans. Efficient use of space, fewer walls and combining kitchen with living areas is very popular in modern homes.
• Focus on sustainability. Green homes with options for renewable energy, ethical use of materials and space and other energy efficiencies are in demand.
Conclusion
Contemporary and modern homes refer to architectural styles that are newer to real estate, such as the mid-century modern movement of the 1950s.
Contemporary house plans are changing with the change in technology, materials and tastes.
House plans are available at a good price online from established architects.